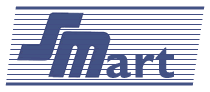 SMART IS HERE!
St. Michael's Audio Response Teller
1-508-679-1951 or 1-508-679-2536
SMART allows you to talk directly to our Credit Union computer from a touch-tone phone with your Personal Identification Number (PIN). Your PIN is your "signature", your authorization to complete the inquiry. SMART is available to access your Credit Union accounts seven days a week.
Accessing your account through SMART controlled by your PIN. Your PIN is your security code that only you know and no one else can get information or transact business on your account without it. Once a PIN is issued to a member, no one may change the PIN but an authorized Credit Union employee.
How it works…
Dial 1-508-679-1951 or 1-508-679-2536
Enter your account number followed by the # sign.
Enter you PIN followed by the # sign.
Please reference your monthly statement for suffix information or call Credit Union for ALL Availabe Suffixes.
Follow the instructions for each step, remembering the following:
When entering a dollar amount include cents. ($150.00 is entered 15000 then the # sign.) Percent (9.50%) rates are entered as 9500
Press the # sign only when prompted.
To end the call, simply hang up.
Reporting Stolen PIN or Unauthorized Transfers Call us immediately at 508-674-3861.
Press the pound (#) sign only when prompted.
You must have a PIN to use the services available through SMART.
ALL TRANSFERS and WITHDRAWALS are limited to your share (savings) and share draft (checking) accounts.
SMART will not allow a transfer which results in a negative share balance.
SMART will talk you through all instructions.
Your monthly share draft statements will indicate all monetary transactions conducted by SMART.
If you make a mistake entering your account number, press the star(*) key followed by the pound (#) sign. This will take you to the previous step.
Here's what SMART can do for you...
Share inquiries – current balance, ytd dividends and available balance information
Loan inquiries – current balance, payoff date, next payment amount and ytd interest paid
Certificate inquiries – current balance and ytd dividends earned
Share to Share transfers
Share to Loan transfers
Deposit information – up to your last three deposits
Share Draft (checking) transaction information – checks cleared, check withdrawals, check inquiry by number, check inquiry by amount and last transaction
Prior year tax inquiry
Loan payment calculation information – automatically calculates loan payments based on the information you enter